We are excited about the investments the Lord is allowing us to make into our Kenwood Kids ministry. Our desire is to improve our security, structure, and learning environment for the present while making room for future growth. We rejoice at the many families the Lord has brought to Kenwood! Our goal is to partner with you and work alongside you as you seek to disciple your children.
Summary: Simply remember two things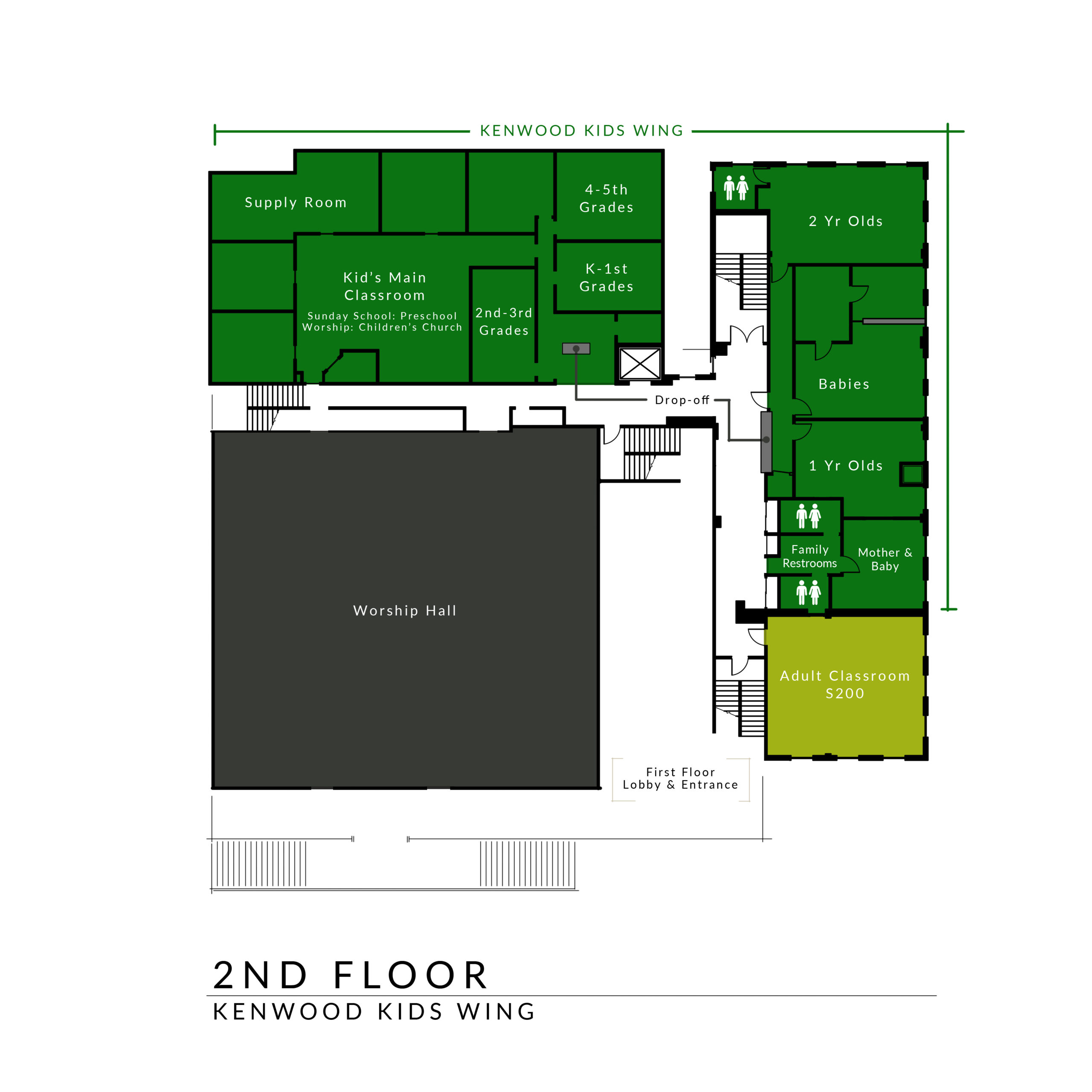 If you're skimming these details, just remember:
1. Sunday, February 12: Bring your child to their new classroom.
2. Sunday, February 26: Begin using Kidcheck process.
*All parents of kids ages 0-9 yrs will need to have a Kidcheck account and add their children in by February 26.
Why are we making these changes?
1. Kidcheck — The Kidcheck system brings Kenwood up to par with standard church practices. It will optimize our security, hospitality, and pickup/drop-off. Teachers will gain the ability to easily manage class rosters and communicate with parents during class, if needed. Kidcheck also allows volunteers to know children's birthdays, relevant allergy/medical info, or any week-to-week updates you think are important.
2. Spaces — The physical move allows us to move all kids' classrooms together for flexibility and security, provide a larger big group gathering space, make dropoff/pickup less congested, and create a kid-friendly environment that is inviting and hospitable.
3. Grade Levels — Shifting to class separation by grade allows us to keep class rosters more consistent across the year, and ensures that learning objectives match stage of development.
4. Big Group Time — A larger group space allows all classes to sing and pray together. In addition, it allows flexibility if teachers are absent.
Where will classrooms meet?
1. Sunday School — Classes separated according to grade.
2. Children's Church — All children meet in main classroom.
3. Wednesday night — Preschool to 1st will meet in Main Room. 2nd to 5th will meet in back right room.
Kidcheck Process
• We will require all children 0-9 to be checked in with this system.
• This will apply to Sunday School, Children's Church, and Wednesday night classes.
• Every kid will wear a sticker with their name while participating in Kenwood Kids activities.
• Parents must show a matching tag (print or electronic) in order to pickup their kids. If the tag is missing, the Nursery or Kids leader will require a license for pickup.
How Do I Check My Children In?
Option 1: Mobile Check-in
How To Video: Parent Express Check-in
• Check your kids in with the Kidcheck mobile app.
• Visit our check-in stations on the second floor.
• When you get near the printer, click submit.
• Place the sticker on their shirt and take them to Kenwood Kids drop-off.
Option 2: Manual Check-in
• Visit our check-in station.
• Type in your phone number and follow the prompts.
• Look for your children's tags to print on the printer nearest you.
• Place the sticker on their shirt and take them to Kenwood Kids drop-off.
How Do I Pickup My Children?
Simply visit the Kenwood Kids drop-off area and show your printed or electronic Kidcheck tag to the volunteer present.
Kidcheck: Create An Account
• Download the KidCheck app on a mobile device.
• Select the link to create a free KidCheck account.
• Fill in the requested fields, and agree to the terms of use.
• You may also create an account by visiting go.kidcheck.com on your browser.
FAQs
Will both parents need a Kidcheck account?
Ideally, yes. In KidCheck, each parent/guardian has their own account linked with their phone number. Once one parent creates a login account, the other can add their spouse as an Authorized Guardian. They will receive an email which will allow them to create a separate account. Guardian accounts are available for other guardians and extended family members, too.
Will siblings or other family members be allowed to pickup?
First, they will be required to be added to your Kidcheck profile as a guardian. Then, as long as they have the matching tag, then they will be allowed to pickup the child.
Will someone be present to help?
Yes! We plan to have a troubleshooter staged near the check-in stations every Sunday morning. We will also have a worker at nursery check-in and Kenwood Kids check-in.
Will we expect visitors to use Kidcheck?
Yes! The process of registering takes under a minute and will ensure we have all the relevant information for our visiting children, especially who is supposed to pick them up.
Why are we not requiring 10-18 year old's to use Kidcheck?
By age ten, children are sufficiently independent to come and go from classes on their own. For their safety, we will still take roll, have two volunteers present, and keep their classroom in the Kenwood Kids wing. If a parent wishes for them to be checked-in, we are able to accommodate.
Will my kids information be secure?
Yes! Kidcheck only requires a parent's phone number, name, and children's names. Kidcheck is one of the premier software solutions in the industry and is widely trusted.
I'm just confused. Who can help me wade through all these changes?
We will have a troubleshooter on call every Sunday morning to help you find your way around our new space and our new check-in system. We are also going to offer a tour of the Kenwood Kids wing on February 12.